UW-RF Home > University Communications Home > This Month's News Releases
University Communications

New Director Energizes Small Business Development Center

By Katie Bild
UW-RF News Bureau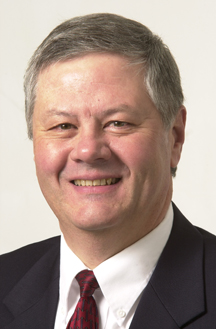 SEPT. 23, 2005--The UW-River Falls Small Business Development Center is gearing up for new directions this year with new director Steve DeWald, a CPA who has more than 30 years of experience in public accounting and a master of management degree from UW-RF.
The SBDC assists small businesses and entrepreneurs in Pierce, Polk and St. Croix counties and is funded by the Small Business Association, the state of Wisconsin and UW-RF.
One objective of the SBDC is to link small businesses with professors or students for assistance in business counseling, including company start-up, computer assistance, business plan help and education.
"The public should consider us the entrée of the university to the business community, because it links them to students and professors," DeWald said.
The SBDC also offers small business courses and workshops on campus and in surrounding counties. DeWald goes out at least once a month and talks to small business owners in the area.
DeWald says there are two common misconceptions that people have when starting a small business.
The first misconception is that many people assume that the bank will loan them the "first dollar" to start a business. This is very relevant in western Wisconsin as the population and new developments are increasing, and many entrepreneurs want to start home remodeling or construction businesses.
However, banks are not in the business to take risks, DeWald cautions. "in the entrepreneur has to have some equity in the game."
The second misconception entrepreneurs might have is that everyone and anyone would be interested in a new product they've developed or want to create. He recommends narrowing their target market and advertising where those people go in order to bring them in.
"A lot of people haven't narrowed the focus enough on what their customer looks like. You want to look at the areas of people you want to serve," he says.
Toward the aim of getting entrepreneurs to focus, DeWald is offering a new workshop, "Business Feasibility Analysis," to help entrepreneurs decide if an idea is worth the time and start-up money. The workshop will also cover the steps to launching a business and is Sept. 26 from 6 to 9 p.m. in the St. Croix Room at Wisconsin Indianhead Technical College in New Richmond. The course fee is $25 and open to 30 participants.
He will also teach a more comprehensive 8- to 12-week course covering entrepreneurship, finance, marketing and other aspects of a business plan. At the end of the course, the plan is sent to the SBDC in Madison to be approved. If approved, participants will be returned up to 75% of the course tuition as a scholarship.
DeWald says he plans to offer courses in Quickbooks and Cashflow software as well as and generating business growth.
For more information or to attend the workshop or courses, contact DeWald at the UW-RF SBDC at 715/425-0620.
-30-