UW-RF Home > University Communications Home > This Month's News Releases
University Communications

Prof's New Books Cover Censorship A to Z

Schools, libraries across the country celebrate Banned Books Week, Sept. 24 - Oct. 1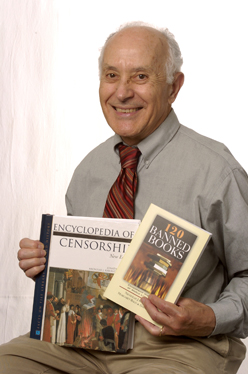 By Brenda K. Bredahl
UW-RF News Bureau

SEPT. 23, 2005--Professor Nicholas Karolides tools around the University of Wisconsin-River Falls campus on a Trek bicycle in a crisp white dress shirt and black tie, a streamlined bike helmet, and wraparound sunglasses that could be the envy of U2's Bono.
Born, raised and educated in New York and of Greek descent, Karolides has taught English and literature at UW-River Falls for more than four decades and calls Wisconsin home. He's witnessed and participated in the school's growth from a rural teacher's college and agriculture school to a suburban comprehensive university with international ties.
Over the decades, Karolides founded and has led the annual UW-RF Greece tour, engaging students and community members on an exploration of the classical roots of intellectual freedom. In 2007, he will teach mythology in Greece on the last leg of the touring international traveling classroom, part of UW-RF's new international studies major.
A refreshing blend of the classic and the current, Karolides is an internationally respected expert on banned literature with seven books on the topic and two new ones on the shelves.
Although censorship may seem like a dusty concept, modern controversies continue to rage about books, movies, song lyrics and Web sites. Karolides' life's work helps ensure that works of literature today--from the Harry Potter series to "I Know Why the Caged Bird Sings"--are not buried under cloaks of suppression and censorship.
"The privilege to read--the right to read--is a significant basis for learning, both on the personal level to help us understand ourselves and others and on the social-political level to understand our world," says Karolides. "As such, reading is a key factor in promoting democratic ideals and practice. Censoring books--in effect--censoring ideas--negates these goals."
Censorship A to Z
His new books--the Encyclopedia of Censorship and "120 Banned Books"--have been recently released from Facts and File--in time for Banned Books Week, Sept. 24 - Oct. 1, an occasion observed by schools and libraries around the world. The encyclopedia's title page contains words by the Greek philosopher and historian Thucydides and taken seriously by Karolides, "Be convinced that to be happy means to be free and to be free means to be brave."
Karolides's most recent works are the result of several years of meticulous research, writing and reviewing. "I'm a working faculty member, and when I was asked by Facts on File to revise the encyclopedia, I foolishly thought, 'How much more could have happened in the world of censorship in the past 10 years since the first edition came out?'" said Karolides. "The stress while I was working on it, according to my wife, Inga, was very pronounced." Consequently Karolides elicited the help of a graduate assistant, Joe Fischer, to conduct research for updating the encyclopedia.
As editor and reviser of the Encyclopedia of Censorship, Karolides's efforts resulted in a 700+page, five-pound hardcover reference--with about 50 percent new material added--covering all forms of expression from the past to the present. Designed in an easy-to-use A-to-Z format--with everything from the office of the censor in ancient Rome to the Internet in the computer age--the 2005 edition includes entries on the "Adventures of Huckleberry Finn," Judy Blume, the Christian Coalition, the Harry Potter series, Stephen King, Howard Stern, and other authors and titles that readers will readily know as well as court cases and countries from Afghanistan to Zimbabwe.
A second new book, "120 Banned Books: Censorship Histories of World Literature," is from Checkmark Books, an imprint of Facts on File. It is an update of the 1998 book, "100 Banned Books," by Karolides, Margaret Bald, and Dawn B. Sova. "120 Banned Books" profiles 30 well-known, often classic works in four areas: political, religious, sexual and social. Each entry gives readers a summary of the work, its censorship history, and suggestions for further reading--from book censored on political grounds such "Areopagitica" by John Milton and "My Brother Sam is Dead" by James Lincoln Collier and Christopher Collier to those censored on social grounds including the "Autobiography of Benjamin Franklin" and the "Captain Underpants" series by Dav Pilkey.
Of the painstaking process it takes to create such works of reference, Karolides says: "It's easier to write about plays or fiction pieces. One that I recently finished, banned on political grounds, was on the Kurdistan-Iraq problem. Spanning the 20th century it revealed the suffering of this ethnic group in Iraq, Iran and Turkey--the calculated bludgeoning of them by the leaders of these countries."
Karolides is the author of many articles and books on censorship, including "Banned Books: Literature Suppressed on Political Grounds," which was excerpted in a 1998 issue of George magazine and is one of a four-volume set on banned books published by Facts on File. Others include "Censored Books: Critical Viewpoints," "Celebrating Censored Books" and "Reader Response in Elementary Classrooms: Quest and Discovery." He is a former editor of the Wisconsin English Journal. He is the co-author, with his daughter Melissa, who has a M.A. degree in exercise physiology, of a book on physical fitness.
A former associate dean of the UW-RF College of Arts and Sciences, Karolides received his Ph.D. from New York University. He is a recipient of the annual UW System Regents Excellence in Teaching Award, making him a member of a select group recognized from the more than 14,000 faculty in the UW System. In 2004 he received the UW-RF College of Arts and Sciences Award for Outstanding Research, Scholarly and Creative Activities. In 1998, he received the Wisconsin SIRS Intellectual Freedom Award at the Wisconsin Librarians Association. He has also received the Myers Center Award for the Study of Human Rights in North America.
For more information on Banned Books Week, visit the American Library Association Web site at http://www.ala.org . To order books from Facts on File, visit http://www.factsonfile.com/.
By Brenda K. Bredahl
UW-RF News Bureau
-30-
Last updated: Tuesday, 22-Jun-2010 16:21:26 Central Daylight Time