UW-RF Home > University Communications Home > This Month's News Releases
University Communications

New York Times Reporter Visits Class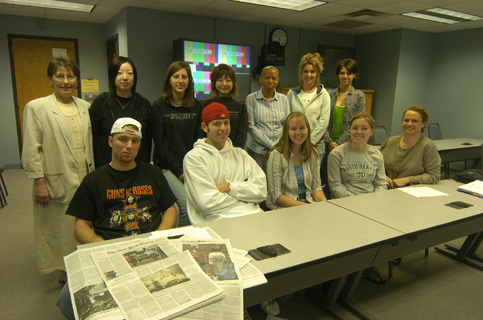 SEPT. 16, 2005--New York Times Reporter Lydia Polgreen visited instructor Brenda Bredahl's journalism class at the University of Wisconsin-River Falls Sept. 16. The West Africa Bureau Chief based in Dakar, Senegal, Polgreen spoke about the challenges and rewards of international news reporting.
Polgreen was in the area visiting family including her grandmother, Beth Polgreen, of Hudson. Her father, John, is a 1974 graduate of UW-River Falls.
Pictured are, standing, L to R: UW-RF journalism department chairperson Colleen Callahan of Hudson, students Erika Yamamura of Miyazaki, Japan; Jessica Bietka of Ashland; Mayumi Kobuchi of Nagasaki, Japan; Polgreen of New York and Dakar, Senegal; Amber Kettler of Stillwater, Minn.; and Christi Wyzykowski of Lakeland, Minn. Seated, L to R: Jon Mast of Oakdale, Minn.; Kyle Walker of Maplewood, Minn.; Leah Johnson, LaCrescent, Minn.; Angie Pearson, Maplewood, Minn., and Bredahl of Hudson.
Polgreen's presentation was also broadcast to advanced placement high school students who are enrolled in the course through the CESA 11 Northern Lights Television Network, including Emily Gall, Bryan Maloney, Mike Mahlen, Nate Wolfe, Joe Bockover, and Dustin Jensen at Webster High School and Tristan Kelly-Hagins at Birchwood High School.
-30-
Last updated: Tuesday, 22-Jun-2010 16:21:25 Central Daylight Time