UW-RF Home > University Communications Home > This Month's News Releases
University Communications

Russian Business Leaders Visit UW-RF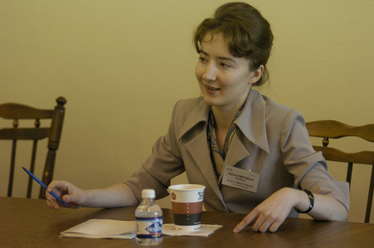 SEPT. 16, 2005-- The University of Wisconsin-River Falls College of Business and Economics presented "Changes in Russia's Developing Economy," an open forum with Russian business executives, on Sept. 13.
In attendance were Svetlana Nikolayevna Al-Shamiri, a project manager from Bison LLC; Lyubov Pavlovna Kovrizhnykh, a personnel director from Autotrading LLC; Mariya Andreyevna Sokolova, a public relations manager from Modern LLC; Yekaterina Konstantinovna Verkina, a chief accountant from Bio-Market LCC; and Yelena Gennadyevna Dmitriyeva, a business English teacher from PricewaterhouseCoopers.
During the question and answer sessions facilitated by Dmitriyeva (pictured) who served as a translator, students and faculty were able to discuss business and economic trends, government policy, educational opportunities and career possibilities. The guests also got the opportunity to talk with students in upper-level business courses and later toured a dairy farm.
Photo: Gennadyevna Dmitriyeva, a business English teacher and translator from PricewaterhouseCoopers. More photos.
-30-


Last updated: Tuesday, 22-Jun-2010 16:21:25 Central Daylight Time