UW-RF Home > University Communications Home > This Month's News Releases
University Communications

New Hort Faculty Member Has Tree Expertise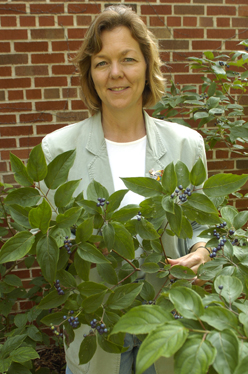 SEPT. 16, 2005--A new plant and earth science faculty member at the University of Wisconsin-River Falls is a horticulturist specializing in Upper Midwestern woody plants.
Susan Wiegrefe, whose most recent position was a research tree breeder at the Morton Arboretum in Lisle, Ill., has joined the plant and earth science department starting August 2005.
She is a founding member of the Maple Society, North American Branch and served as incorporator in 2003 and president from 2001 to 2005. She is chair of the U.S. Department of Agriculture ARS Woody Landscape Plant Crop Germplasm Committee, and has also served as secretary to the committee. She was executive director of the Metropolitan Tree Improvement Alliance and also served as past director and assistant director.
Wiegrefe holds a Ph.D., in plant breeding and genetics and an M.S. in ornamental horticulture from UW-Madison and a B.S. degree in horticulture science from the University of Minnesota, Twin Cities.
"Her expertise in woody plant material greatly enhances the horticulture program at UW-RF," says Terry Ferriss, professor of horticulture at UW-RF. "Our students are fortunate to have access to her background, knowledge and connections to the industry."
Wiegrefe has published articles in a broad array of popular and scientific journals from the American Journal of Botany, Plant Systematics and Evolution, Systematic Botany and the American Beekeepers' Journal to Landscape Plant News, Grounds Maintenance and Seasons magazine.
Previous positions include postdoctoral research associate at the University of Minnesota department of horticultural science, field and research assistant with the UW-Madison department of forestry, lecturer at the University of Illinois, Champaign-Urbana, instructor for the Illinois Arborist Association, summer ag agent for the UW Extension Service, as well as greenhouse worker, nursery salesperson, orchard sales manager and horticultural and curatorial intern for various botanical gardens and arboreta. She also visited Germany on a horticulture exchange program while a student.
"My philosophy is to impress upon the students ... that they need to learn the existence of resources to help them continue to learn once they've attained their degrees and positions," says Wiegrefe. "In teaching about woody plants, I prefer to approach it from a plant geographic perspective so that students come to understand what adaptations the plants acquired from competing in its native plant and soil community."
Horticulture Professor Brian Smith, inventor of the Lydecker plum cultivar, said: "I am pleased to have Dr. Weigrefe on board as a colleague. She displays the type of enthusiasm for plants that bodes well for the horticulture profession in general and for UW-RF horticulture students in particular."
-30-
Last updated: Tuesday, 22-Jun-2010 16:21:25 Central Daylight Time