UW-RF Home > University Communications Home > This Month's News Releases
University Communications

One-Woman Show Kicks Off Theatre Season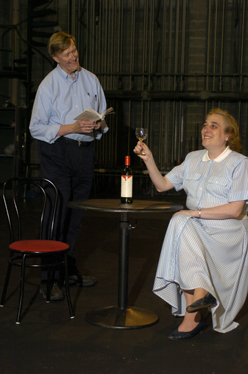 AUG. 26, 2005--The University of Wisconsin-River Falls University Theatre season starts with a special production dedicated as a fund-raiser for renovation of the Blanche Davis Theatre on campus.
"Shirley Valentine" is a contemporary comedy focusing on Shirley Bradshaw, a middle-aged wife and mother of two from Liverpool who is searching for happiness and meaning.
In this warm and witty play by Willy Russell, UW-RF physics Professor Eileen Korenic brings the memorable character to life under the director of speech and theater professor Gorden Hedahl.
The play is 7:30 p.m., Sept. 7 - 10 in the Davis Theatre in the Kleinpell Fine Arts Building. Tickets are $7 for adults and $4 for students and senior citizens.
For more information visit www.uwrf.edu/scta or call the UW-RF Box Office at 715-425-3114 or 1-800-228-5423. Box office hours are 10 a.m. to 3 p.m. starting one week before the first performance, and one hour before each performance.
Constructed in 1972, the main theater in the Kleinpell Fine Arts Building was renamed in 1991 in honor of a former chair of the speech communication and theatre arts department, Blanche Davis. Davis joined the faculty in 1949 and directed plays and taught in the department until her retirement in 1973. She was instrumental in enhancing the role of theater on campus and in the community.
-30-
Last updated: Tuesday, 22-Jun-2010 16:21:25 Central Daylight Time