UW-RF Home > University Communications Home > This Month's News Releases
University Communications

New Chancellor Inspires UW-RF Community in Opening Address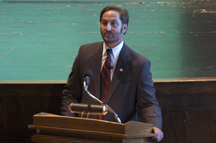 AUG. 22, 2005--In an opening meeting that featured laughter, music and inspiration, the University of Wisconsin-River Falls launched the start of its academic year with an address from new Chancellor Don Betz.
On board as the university's chief executive since July, Betz spoke to about 500 faculty and staff. Classes will begin on Sept. 7 for an estimated 6,000 students, which will include about 1,215 freshmen.
Those entering North Hall Auditorium on Monday were greeted by rock music, with such songs as the Bill Medley/Jennifer Warnes hit, "(I've Had) The Time of My Life," from the 1987 movie, "Dirty Dancing."
Betz was greeted by laughter as he explained that the pop music was part of a compilation he had put together for a reason: "It was the year our freshmen were born." Other birth-year milestones for this year's incoming freshmen, Betz noted, included Ronald Reagan in the White House, the Iran-Contra scandal, the Twins winning the World Series, movies including "Good Morning Vietnam" and "Robo Cop," and television shows such as "the Cosby Show," "Cheers" and "The Wonder Years."
The speech was interspersed with self-deprecating humor. Saying he was uncertain whether to expect an empty house or a crowd, Betz said he considered coming up with a marketing slogan to draw an audience. He drew laughter as he related that he briefly toyed with "Come meet the geek," before his staff talked him out of it.
On hand were his wife Susanne and their daughter Sarah, a kindergarten teacher who has recently moved to Farmington, Minn. "You've offered us encouragement, assistance and genuine warmth," said Betz of the River Falls campus and community
The new chancellor also paid tribute to his predecessor, Ann Lydecker, who died in a traffic accident. He became acquainted with the popular chancellor when she served on an accreditation review team evaluating Central Oklahoma University, where he previously served as the chief academic officer.
"When I first arrived, people asked me how I was going to fill Ann's shoes," Betz said. "So, I thought I would tell you. I'm not going to fill those shoes; they were a special size for a special person who did wonderful things for you. But what I will do is to honor her commitment to this institution."
Betz said the start of the school year offers great promise. "We are here to honor the past, to embrace the present and to create a vision together in order to build for the future."
Speaking of the fundamental role of the academy, Betz said, "We are here to help students to learn so they can become productive, creative, ethical and engaged citizens and leaders.
"We are educating and inspiring and mentoring and sculpting the next generation. Who will these people be? They will be the researchers, the business entrepreneur, the civic leaders, the school board members, the diplomats, the global thinkers, the problem solvers, who will lead us for the next 30 years. We are creating the next Wisconsin, and then beyond. We are an inextricable component of society's quest to build a better future."
During the next year, Betz said, he will lead the university community as it moves forward on identifying and articulating its core values to then translate into a mission and vision statement, which will lead to planning for the future. Betz promised to involve the university's stakeholders of students, parents, alumni, community members, faculty, staff, legislators, and others in identifying those values.
That activity will support such tasks as launching a comprehensive fundraising campaign and preparing for the institution's important North Central Association accreditation review.
Those discussions leading to a shared vision will create an "institutional intentionality" that will define the University's role. Explaining the concept, Betz said this is a question he's asked himself every day since entering the front of a classroom 35 years ago: "What the heck do we show up here for?" Betz said faculty and staff should ask themselves two questions: What are we doing here? How shall we proceed?
"Make no mistake, we are a force for learning. We are a force for leadership," said Betz. "We are a force for service through a community that stretches from River Falls to every part of the globe."
Betz asked faculty and staff to pursue three goals this year and into the future. The first is a life of engagement, rather than of separation. He pointed to UW-RF's participation in the American Democracy Project and Campus Compact: two national movements that stress student service-learning as well as their preparation for a leadership role in society.
"No student should graduate from this University without an understanding of the core issues of the time and the common steps of how they can cooperate to address them," Betz explained.
Second, he urged a commitment to continuous improvement--not as a slogan or assessment tool--but through pursuing excellence in classroom activities as well as stressing life-long learning.
"Third, no matter what your responsibility is at this hallowed institution, we are here to help students learn," said Betz. To educate today's students effectively, faculty and staff must understand the use of technology, which has made the world a level playing field in business and culture, said Betz, whose academic specialties include international relations, the United Nation's Question of Palestine and leadership development. "We must bring the world to River Falls, and we will take River Falls to the world."
Betz received sustained applause as he concluded by asking faculty and staff to join in "reaffirming a culture of learning and leading, a culture of collaboration and caring, a culture of authenticity and academics. I can't imagine more noble work."
-30-
[Photos]

Last updated: Tuesday, 22-Jun-2010 16:21:25 Central Daylight Time