UW-RF Home > University Communications Home > This Month's News Releases
University Communications

Students Attend American Dairy Meeting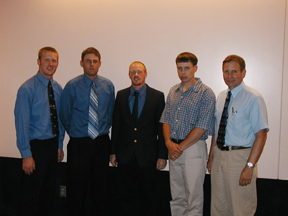 AUG. 12, 2005--Dairy science students from the University of Wisconsin-River Falls recently attended American Dairy Science Association and the American Society of Animal Science/Canadian Society of Animal Science annual meetings held in July in Cinncinnati.
The meetings attracted more than 130 students and advisors in addition to the nearily 3,000 professional from the United States, Mexico, Canada and other countries.
The students who attended the meetings are members of the American Dairy Science Association Student Affiliate Division. The ADSA-SAD is a division of the parent organization that works to develop leadership and promote scholarship among students interested in the dairy industry and to encourage students toward careers in dairy science. The ADSA has more than 400 undergraduate student members.
UW-RF participants included (photo above, L to R:) Erik Blaser, a senior majoring in dairy science from Oconto Falls; Brandon Owens, a junior majoring in dairy science from Frederic; Luke Buttles, a 2005 graduate who majored in dairy science/ag education from Seymour and who served as 2nd vice president of ADSA-SAD this year; Bob Zeamer, a 2005 graduate who majored in dairy science from DePere; and faculty advisor Perry Clark, professor of animal/dairy science, from Ellsworth . In addition, animal/dairy science Professor Steve Kelm was elected first year advisor for the ADSA-SAD Division.
Students participated in a dairy quiz bowl among dairy clubs, business meetings and various competitions at the meetings. These included an undergraduate research paper competition, a "Leaders in Training" career symposium, and an awards luncheon. Students also attended symposia, oral presentations, and research poster sessions by professional members of the organizations.
ADSA was established in 1906 as a scientific and educational association to serve the dairy and dairy-related industries. It facilitates the discovery, application and dissemination of dairy science knowledge and information.
-30-
Last updated: Tuesday, 22-Jun-2010 16:21:25 Central Daylight Time