UW-RF Home > University Communications Home > This Month's News Releases
University Communications

Governor Helps Dedicate UW-RF Hunt-Knowles Addition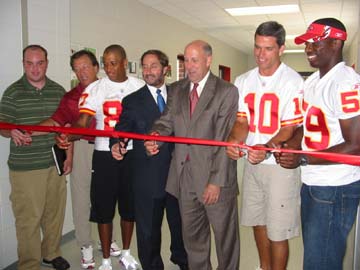 AUG. 1, 2005--Gov. Jim Doyle welcomed the Kansas City Chiefs to Wisconsin for its 15th summer at the dedication ceremony of the UW-River Falls Hunt-Knowles Athletic Center Addition Aug. 1. Chiefs President Carl Peterson also announced the team would hold its 2006 summer training camp at UW-RF.
UW-RF Chancellor Don Betz commenced the ceremonies by stressing the importance of teamwork as the essence to success. "As we celebrate the 15 years of successful training camp, we're really celebrating a relationship," said Betz.
"The Chiefs are our favorite AFC team, and the Chiefs are definitely part of the Wisconsin family," said Gov. Doyle, who then referred several times to his favorite NFL team, the Green Bay Packers.
Visitors from near and far heard Betz, Doyle, and Peterson, as well as quarterback Trent Green and others at the gala, and many toured the 12,300 square-foot training and locker room facilities. The $2.4 million air-conditioned addition includes two locker rooms, each with 50 over-sized lockers, a whirlpool room, a training workroom, an expanded laundry, and office space.
The Chiefs and the University also signed a five-year option for continued camps at UW-RF. Local leaders including Sen. Sheila Harsdorf (R-River Falls) and Rep. Kitty Rhoades (R-Hudson) as well as River Falls Mayor Don Richards attended the event.
UW-RF Student Senate President Nick Cluppert highlighted the many opportunities that the Chiefs organization provides to students, including internships, jobs, and other opportunities associated with an affiliation to an NFL organization.
Gov. Doyle and University officials also noted that the new facility benefits the community, local tourism, as well as current students and prospective students who are considering academic and athletic opportunities at UW-RF. "This will pay for itself many times over," Doyle said. "This is a major improvement on campus as well. The students who attend River Falls and the students who are thinking about where they may attend--when they see this facility it's going to help this school a lot."
-30-
Photo, upper right: L to R: UW-River Falls Student Senate President Nick Cluppert, Kansas City Chiefs President/GM/CEO Carl Peterson, wide receiver Eddie Kennison, UW-RF Chancellor Don Betz, Wisconsin Gov. Jim Doyle, quarterback Trent Green, and linebacker Shawn Barber get ready to cut the ribbon at the Hunt-Knowles Athletic Center Addition grand opening on Aug. 1 at UW-RF.
More photos...

-30-
Last updated: Tuesday, 22-Jun-2010 16:21:25 Central Daylight Time