UW-RF Home > University Communications Home > This Month's News Releases
University Communications

Fighting Fires With Wildfire Education

JULY 15, 2005--No one ever really hopes for a fire, but University of Wisconsin-River Falls student Andy Klein and his classmates have been ready and waiting since taking plant and earth science Professor Michael Kaltenberg's wildfire fighting class.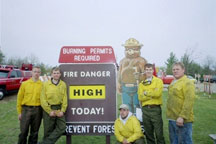 In May, however, Klein and his classmates had the opportunity of a lifetime when a devastating fire swept across 3,900 acres in central Wisconsin, destroying 30 homes and 60 outbuildings. Started accidentally by a man making a fire pit on his vacation property, the fire raged a mile-wide, cutting a six-mile swath through wooded acreage in Adams County. It was described as the largest fire in Wisconsin in the last 25 years. No one was hurt, but 125 families were evacuated.
"We never imagined we'd be called," said Klein, who is the crew boss for the certified hand crew that was fresh from Kaltenberg's course, which is taught each spring in collaboration with the Wisconsin Department of Natural Resources.
Klein got the call on May 5 about 5 p.m. from the DNR. "I saw a message blinking, and the machine said, 'This is Pat so-and-so, from the DNR.' The voice was very calm and laid-back. Then he said, 'We need your help on a 1,500 running-crown fire,' which means it's moving fast in the treetops. When I heard that I was just floored."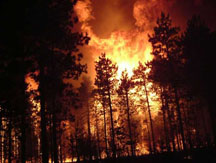 After picking up their firefighting gear--Nomex® suits, helmets, gloves and headlamps--from storage in the campus Public Safety office, Klein, from South Haven, Minn., Aaron Retzlaff of Shawano, Cale Richter of Bonduel, Pat Wiltzius of Ripon, and Jacob Moe of Onalaska, headed down Interstate 94 to the Tomah exit. Several speeding U.S. Fish and Wildlife Service vehicles with flashing lights flew by on I-94. About 45 minutes from the exit where the road was blocked off, a county sheriff came over to their car.
"Cale asked him where the incident command post was, and he saw that we were in our garb and directed us to the Big Flats Township fire department," said Klein. "There were vehicles, engines and fire fighters everywhere. We walked into this room the size of basketball court, and the whole thing was full of people wearing yellow shirts and green pants; it was like a Green Bay Packer convention."
A laptop computer projected a detailed map of the fire on the wall, and the students saw the incident commander with his standout vest. "Everything we'd read and learned about in class was coming to life," said Klein.
They reported to their crew leader, Chris Widstrand, a DNR forester from Eau Claire County, who worked with Kaltenberg to set up the course some 10 years ago and continues to work with UW-RF students.
"When we went out that night, first there was a feeling of excitement and adrenaline and then a humbling feeling--whoa, this is real. We saw houses burned--nothing but chimneys and front steps," said Klein. "We mopped up hot spots, walking along the fire break where they've dozed a big lane through the woods down to mineral soil to stop the spread. Afte
r about three hours, Chris's radio started acting up. He was really concerned, and said, 'We gotta go.' That was one of the first things we learned in class: Fire fighter safety is No. 1."
The UW-RF crew spent the weekend on the scene along with 250 fire fighters, four airplane tankers and countless wildfire rigs. During the day they cleaned up and rested at a Wisconsin Rapids hotel. It's better to fight the hot spots associated with the main fire at night, Klein learned in class and on the job, as the wind decreases, temperatures drop, and humidity rises, creating more favorable conditions.
On Friday, Gov. Jim Doyle visited displaced families and firefighters. On Saturday the UW-RF crew worked with the Menomonie Tribal Lands wildfire fighting department. "We saw an old bus, and on the side were thick globs of molten glass," recall Klein. "We saw a 14-foot fishing boat, which looked just fine, but on the other side it was melted into a solidified puddle of aluminum."
The experience was unforgettable, Klein says. "Seeing all the community agencies come together was the neatest experience," said Klein."One night after dinner I saw one of the food volunteers, who had her sleeping daughter on her lap, and she was nodding off. I said, 'Thank you, that was a very good meal.' She said, 'You're welcome.' That moment really got to me, she was obviously working really hard too. I had to go outside and dry my eyes."
Since the course Environmental Management 289 was first offered, students have not had the opportunity to fight a real fire during the school year, says Kaltenberg. Hands-on experience in the course is gained from controlled, prescribed burns done locally and supervised by the DNR.
"The average Wisconsin wildfire is about three acres, so this was a very significant fire," says Kaltenberg. "A couple of times in the past the student crews have been on standby in Cumberland. But this was quite an opportunity for them."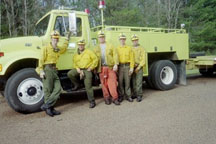 Students who take the course can be certified in three federal wildfire fighting certification levels: I-100, which covers the incident command system, S-190, which covers fire behavior, and S-130, which covers fire control.
"Each spring about 35 to 40 students take the course, offered in two sections," says Kaltenberg. "The DNR wants a trained crew ready at all times."
After successful completion of the course, students can then go on to earn a "red card" that is needed to assist with federal wildfires. They also need to pass a physical assessment every year to maintain this certification.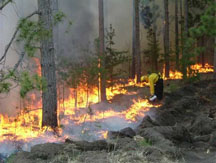 A few of Kaltenberg's students have gone on to the federal level. April Deming (B.S. '03) now works seasonally for the FWS in Sequoia and Kings Canyon National Park in California and recently completed squad boss training.
In a recent e-mail to Kaltenberg, she said, "I can't work more than 1,039 hours, but what a huge foot in the door. I keep getting calls from other fire jobs that I applied to wondering if I'm still available--Everglades, Los Alamos, Teddy Roosevelt. I think it is because I have a B.S. and most fire guys don't for a GS-4. Now for a GS-5 you need a four-year degree and a squad boss/ICT5/FFT1 rating. Tell all those fresh resource management and conservation majors to look into fire. Heck the pack test is a breeze ... I smoked it and still had enough energy to survey orchids the rest of the day."
Photo cutlines:
Top to bottom:
UW-RF Wildfire Fighting Crew (L to R): Jake Moe of Onalaska, Pat Wiltzius of Ripon, Cale Richter of Bonduel, Andy Klein of South Haven, Minn., Aaron Retzlaff of Shawano. Photo credit: Andy Klein.
Crownfire courtest of the Wisconsin Department of Natural Resources.
A burned-out cabin site. Photo credit: Andy Klein.
The UW-RF Wildfire Fighting Crew in front of a Prentice Tractor Plow Engine: Andy Klein of South Haven, Minn., Cale Richter of Bonduel, Aaron Retzlaff of Shawano, Jake Moe of Onalaska and Pat Wiltzius of Ripon. Photo credit: Andy Klein.
Fire hot spot photo courtesy of Wisconsin Department of Natural Resources.
-30-
Last updated: Tuesday, 22-Jun-2010 16:21:25 Central Daylight Time