UW-RF Home > University Communications Home > This Month's News Releases
University Communications

'Pirates of Penzance' Completes 39th SCVST Season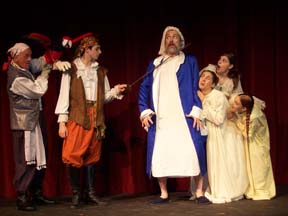 JULY 15, 2005--The rollicking, unforgettable Gilbert and Sullivan operetta "The Pirates of Penzance" is the final production in the St. Croix Valley Summer Theatre's 39th season at UW-River Falls, July 28-31 and August 3-6.
Featured in the 30-member cast is veteran SCVST actor and River Falls physician Paul McMillan as the incomparable Major General Stanley. Other SCVST actors in this production include Michael Norman (Samuel), Sammy the parrot (himself), Brad Jennings (Pirate King), Anne Negri (Kate), Rochelle Oldham (Mabel) and Marianne Saddee (Edith). Additional cast members include Jennifer Larson as Ruth, C. Max Athorn as Frederick, Abbey Nelson as Isabel and Rusty Rusterholz as the Police Sergeant.
The joyous power of Gilbert and Sullivan's music is unleashed in the witty score featuring such classics as "Poor Wandering One," "With Catlike Tread," "When the Foeman Bares His Steel," and the all-time patter classic sung by McMillan as Major General Stanley, "I Am the Very Model of a Modern Major General."
The story revolves around young Frederic who is mistakenly apprenticed to a band of kindhearted, orphaned pirates by his nurse, Ruth, who, because she was hard of hearing, had mistaken her master's instructions to apprentice the boy to be a pilot.
Frederic reaches the age of 21 and rejoices that his forced servitude has been fulfilled. He is now free to return to respectable society. But it turns out that he was born on Feb. 29 in a leap year, and he remains apprenticed to the pirates until his 21st birthday. By the end of the operetta, the pirates, the Major General Stanley, who knows nothing of military strategy, his large family of beautiful but unwed daughters, and a wacky, timid police force all contribute to a riotous discord that can be silenced only by using Queen Victoria's name.
The production is directed by SCVST veteran director Phil Bratnober with music direction by River Falls High School graduate James Norman. The choreographer is Denise Baker of Hudson.
Performances are at 7:30 p.m. July 28-30 and August 3-6, and 1:30 p.m., Sunday, July 31. For tickets and information, call the box office at 715-425-3114 or 1-800-228-5423.
-30-

Last updated: Tuesday, 22-Jun-2010 16:21:24 Central Daylight Time