UW-RF Home > University Communications Home > This Month's News Releases
University Communications

UW-RF Summer Concert Series Presents Salsa Havana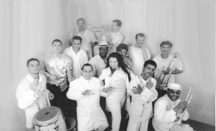 JULY 15, 2005--The University of Wisconsin-River Falls 2005 Concert Series presents the group Salsa Havana on Tuesday, July 26, at 7 p.m. in the Melvin Wall Amphitheatre on campus. The concert is free and open to the public. In case of rain, the concert will be held in Brandy's Nightclub and Eatery in the Hagestad Student Center.
Salsa Havana is both a high-energy salsa band and classic Afro-Cuban orchestra, bringing large doses of excitement, romance, feeling and Caribbean swing to their concerts. Salsa Havana blends tropical, big-band Latin, retro-Cuban, salsa and original jazz to create a non-stop, body-moving show.
The group also features a powerhouse horn section, an infectious percussion section and a tight rhythm section. The repertoire of the group features salsa, rumba, son montuno, guaracha, cumbia, bolero, cha-cha, jazz, bachata and other Latin rhythms.
For more information about Salsa Havana contact the UW-RF Student Leadership Center at 715/425-4911.
-30-
Last updated: Tuesday, 22-Jun-2010 16:21:24 Central Daylight Time