UW-RF Home > University Communications Home > This Month's News Releases
University Communications

School's In For Summer
[photos]
JULY 1, 2005--About 100 kids from area middle schools participated in the 14th annual Teen University, which gives a taste of college life to youth who show high academic potential, motivation and talent.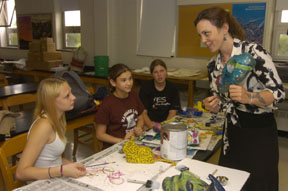 L to R: Students in the Teen University mask-making class at UW-River Falls included Megan Wrzosek of River Falls, Nara Tashjian of River Falls, and Sadie Clarke of Beldenville, who discuss their masks with instructor Greta
Hammelman.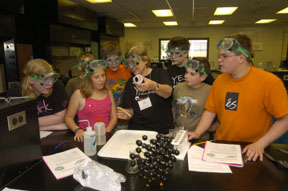 L to R: Students in Professor Marilyn Duerst's Teen University chemistry class included Emma Smith of River Falls, Chloe Hanson of River Falls, Dan Cahoon (back, not in view) of Hudson, Cody Gensen of New Richmond, Duerst, Xander Toftness of River Falls, Joe Crowley of Hudson, and Harry Bourgoin of Hastings, Minn.

-30-
Last updated: Tuesday, 22-Jun-2010 16:21:24 Central Daylight Time