UW-RF Home > University Communications Home > This Month's News Releases
University Communications

SCV Summer Theatre Presents "Our Town"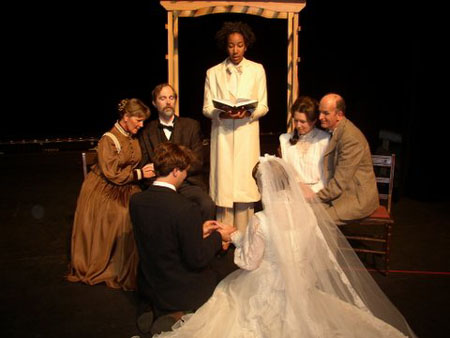 JUNE 10, 2005--The St. Croix Valley Summer Theatre will celebrate its 39th season with the first of four productions in the UW-River Falls Blanche Davis Theatre in the Kleinpell Fine Arts Building beginning June 23.

"Our Town," by Thornton Wilder, has become an American stage treasure and is Wilder's most renowned and frequently performed play. First produced in 1938, the play reveals the ordinary lives of people living in the small town of Grover's Corners, N.H.
River Falls actors Sandee Blakeley and Paul McMillan (seated left), portray Mrs. Gibbs and Doc Gibbs, and Patrice Veit (seated right), plays Mrs. Webb. In this production art does imitate life; McMillan is an M.D. at the River Falls Area Hospital. Tom Monn (seated right), Woodbury, Minn., is Mr. Webb. Adia Morris (standing), of Minneapolis, is the all-knowing Stage Manager. Joe Lullo, Madison, Wis., and Lauren Rusch, Manawa, Wis. (kneeling), are the young lovers.

A large cast of River Falls and St. Croix Valley actors completes the ensemble, which is being directed by SCVST veteran Ken Hill, a Ripon College theater professor, and director of last year's "On Golden Pond." All performances of "Our Town" are in the air-conditioned comfort of the Blanche Davis Theatre, Kleinpell Fine Arts Building at UW-River Falls. Evening performances, June 23 - July 2, begin at 7:30 p.m. A June 26 matinee is at 1:30 p.m. Adult tickets are $13; students and senior tickets are$10; and children's tickets are $8.

The SCVST box office, located on the south wall of the lobby in the Kleinpell Fine Arts Building, is open Monday through Friday, 10 a.m. to 4 p.m. To ensure a seat for the performances, tickets should be purchased in advance or ordered by phone using a credit card. The box office is also open one-hour before curtain time if any unsold seats are still available. For an SCVST brochure, tickets or more information, e-mail scvst@uwrf.edu or call the UW-RF box office at 715/425-3114 or 800/228-5423.
-30-
Last updated: Tuesday, 22-Jun-2010 16:21:24 Central Daylight Time