UW-RF Home > University Communications Home > This Month's News Releases
University Communications

Alumni Weekend Set for June 24, 25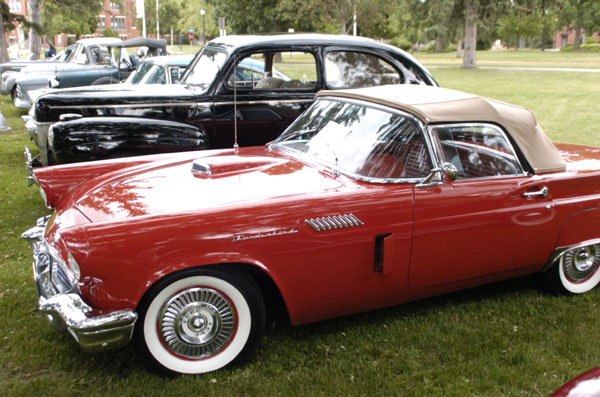 JUNE 10, 2005--The UW-River Falls Office of University Advancement invites all alumni and friends to its 20th annual Alumni Weekend Friday, June 24, and Saturday, June 25. Weekend campus festivities include a barbecue, tours, picnic, car show, ice cream social and a special program presented by assistant Professor of biology Tim Lyden, who received a 2005 Outstanding Advisor Award from the College of Arts and Sciences.

Registration begins at 3 p.m. on June 24 in the Falcon's Nest of the Hagestad Student Center. From 3 to 4:30 p.m. participants can embark on a bus tour of campus.

At 5:30 p.m. the weekend will kick off with cocktails and hors d'oeuvres in the Student Center courtyard followed by a barbecue (inside if rain). Later that evening, participants can enjoy the St. Croix Valley Summer Theatre production of "Our Town" at 7:30 p.m. in the Blanche Davis Theatre in the Kleinpell Fine Arts Building. For ticket prices and reservation, call the box office at 1-800-228-5423.

Events on June 25 begin with registration and a continental breakfast in the Falcon's Nest of the Student Center from 8 to 11 a.m. with a welcome greeting at 9 a.m. in the President's Room of the Student Center. From 9:30 to 11:30 a.m. tours of the College of Arts and Sciences or the College of Agriculture, Food and Environmental Sciences facilities will be offered.

At 11:45 a.m., participants can tour the new George R. Field South Fork Suites, the newest residence hall on campus. The tour is followed by a 12:30 p.m. picnic in Brandy's in the Student Center.

Mary Halada, vice chancellor for administration and finance, will update alumni and friends on changes happening on campus at 1:45 p.m. in the President's Room of the Student Center.

From 2:15 to 3:45 tours are available for the College of Education and Professional Studies and the College of Business and Economics.

Evening activities begin with an ice cream social at 3:45 in the Falcon's Nest of the Student Center with social hour, dinner and awards banquet starting at 6 in the River Room of Rodli Commons.

The alumni classes of 1945, 1950, 1955, 1960, 1965, 1970 and 1975 will receive special recognition at the banquet. Lyden will present the evening program, highlighting undergraduate student research.

For more information, contact Julie Stucky, assistant director of alumni relations in the University Advancement Office, 715-425-3505 or toll free at 1-877-258-6647 or via e-mail at julie.stucky@uwrf.edu.
-30-
Last updated: Tuesday, 22-Jun-2010 16:21:24 Central Daylight Time