UW-RF Home > University Communications Home > This Month's News Releases
University Communications

UW-RF Set to Host Season 15 With Chiefs

By Katlyn Kaiser
UW-RF University Communications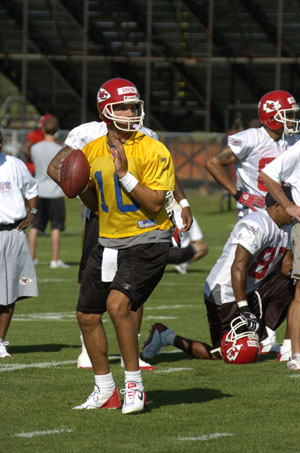 JUNE 10, 2005--For the 15th consecutive year, the Kansas City Chiefs football team will hold its summer training camp at the University of Wisconsin-River Falls. The Chiefs will arrive on July 27 and practice until their departure on Aug. 19.

Several special events are planned for the 2005 that will give fans fun and memorable moments during the camp's 15th anniversary.

Fans will get the chance to see the Chiefs up close as they prepare for the 2005 season. Several new players, both draft choices and free agents, will be battling for a coveted spot on the Chiefs final roster. Chiefs coaches, led by Dick Vermeil who is in his fifth season with the team, will be putting the entire team through its paces with high-tempo practices.

The Chiefs again look strong offensively going into the 2005 season with several veteran team members on the roster. Quarterback Trent Green had another top-ranked 2004 season and looks to carry the explosive offense. Tight end Tony Gonzalez returns after setting a NFL tight end record with 102 catches.

Running back Priest Holmes, coming off a season-ending knee injury, will arrive at camp fully recovered and with high hopes of recapturing the NFL's leading rusher title. Receiver Eddie Kennison, with a 1,000-yard plus 2004 season, hopes to achieve the same type of high numbers. Pro Bowl guards Will Shields and Brian Waters, along with tackle Willie Roaf, will play key roles in the offensive line.

After an extensive off-season of shopping for free agents and drafting, the Chiefs line will look fresh, but one familiar face on the line is veteran defensive end Eric Hicks, the rock of the Chiefs defense.

Additions for the Chiefs defense include the acquisition of cornerback Patrick Surtain from the Miami Dolphins as well as linebacker Kendrell Bell from the Pittsburgh Steelers, who was the NFL's defensive Rookie of the Year in 2002.

Helping the defense is the Chiefs first-round draft pick linebacker Derrick Johnson from the University of Texas, who is one of the most talented players in the draft and was awarded the Nagurski Trophy as the nation's top defensive player. Other draft picks include punter Dustin Colquitt from Tennessee, wide receiver Craphonso Thorpe from Florida State, linebacker Boomer Grigsby from Illinois State, and Alphonso Hodge, a cornerback from Miami (Ohio).

The Chiefs will arrive in River Falls on July 27 with their first practice scheduled for the following day at 4 p.m. During camp, typically two practices per day are held: from 8 to 10 a.m. and 4:30 to 6:30 p.m. and are open to spectators. All practices, except for Family Fun Night, are free. On Aug. 19, the Chiefs will hold a final morning practice and break camp.

Several special events planned for Chiefs fans include the Punt, Pass & Kick competition on July 30, which allows boys and girls, ages 8-13, to compete in a skills competition at the Ramer Field Sports Complex. Call 715/425-3771 to register and for more information or to register online visit www.uwrf.edu/chiefs/ppkform.htm.

Another favorite event is the Family Fun Night, which will be held on Aug. 6. The Chiefs practice under the lights, and food, music and games will be available, as well as photo and autograph opportunities with players and coaches.The Indianhead Sport Parachute Club kicks off the festivities, and a fireworks display caps off the fun. Admission is $6 for adults and free to those under 18. A new event that evening will be the Chiefs Experience.

Open to everyone, the Chiefs Experience offers some interactive games that will challenge everyone's football skills. A speed and obstacle course, a football throw and a field goal kicking station will be part of the fun.

Kids Days and Seniors Day at this year's camp offer fun for all ages. Kids Days are scheduled for Aug. 2 and 16 and Seniors Day will be Aug. 9. The events will be held during morning practices. Concession stand discounts and other activities will be offered. Call 715/425-3771 to register; for more info on Kids and Senior days visit www.uwrf.edu/chiefs/kidsday.htm.

Area golf courses are offering special discounts and packages during training camp, including Kilkarney Hills (715/425-8501) and Clifton Hollows (1-800-487-8879) or visit www.uwrf.edu/chiefs/special_events.

Extensive coverage and daily updates of all the action will be available on UW-RF's award-winning Web site at www.uwrf.edu/chiefs.

Fans are encouraged to call the Chiefs hotline at 1-800-4-KCC-KCC for the latest information on daily practices times and event dates, which are subject to change.

For additional information on lodging and other attractions in River Falls and in the nearby scenic St. Croix River Valley, visit www.saintcroixriver.com.
-30-
Photo: KCC Quarterback Trent Green.
Last updated: Tuesday, 22-Jun-2010 16:21:24 Central Daylight Time