UW-RF Home > University Communications Home > This Month's News Releases
University Communications

HS Students Prepare for College History
By Molly Exner
UW-RF News Bureau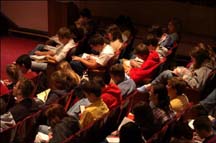 MAY 20, 2005--UW-River Falls hosted the 9th annual Advanced Placement U.S. History Review Day, which drew a record 430 students from 19 different high schools in Minnesota and Wisconsin in April.

Advanced Placement U.S. History (APUSH) Review Day is an opportunity for high school students to discuss major themes in U.S. history and see how those themes can be connected in preparation for the APUSH test, which covers all of American history and indicates how well students will do in college.

UW-RF history Professors Kurt Leichtle and David Riggs, and UW-Stout history Professor Bob Zeidel, were available during the all-day event to answer questions about the test and U.S. history in general.
According to Leichtle, the event takes some of the "mystery and terror" out of taking the test. Leichtle says the faculty were just "visiting firemen" assisting the students with recalling knowledge they've already covered in high school.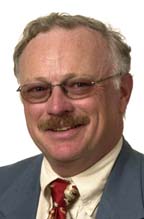 If a student scores a 3 or better out of 5, they receive advance college credit to be applied to a UW System school. At UW-RF, students receive three credits, and if they earn a B or better in a 300-level U.S. history course offered by UW-RF, they earn another three credits.

The APUSH test consists of a set of multiple-choice questions and two essays consisting of document-based questions (DBQ) and free-response questions (FRQ). In a DBQ, students answer a question using their prior knowledge along with a set of short documents given with the question. Plus, students answer two FRQs, which are similar to essay questions on a college exam.

Leichtle says a DBQ is more challenging because students must demonstrate their ability to use primary sources, which is an important skill in becoming a successful history student and historian.

Leichtle has been involved with APUSH since he was in high school, preparing for the same future as some of the recent participants. He took two tests as a high school student and says the college credit gave him extra time to do additional activities during college.

Leichtle began helping and preparing students for APUSH tests 12 years ago, when he began reading and grading tests, but now he joins Zeidel to help to organize APUSH review days across Minnesota and Wisconsin.
Students can get involved by taking APUSH courses at their high schools. Fortunately, most area high schools offer a variety of APUSH courses, but students also can take the test without taking special courses. Although,
Leichtle says APUSH courses help students structure the content in more efficient ways.

The exam was May 6. According to Leichtle, several of the teachers have told him their students felt good about their performance. The proof will come in about two weeks when Leichtle and Zeidel will join about 550 other history teachers in San Antonio to grade all the exams.

Leichtle says he's excited to head down to San Antonio. "I'll be able to talk with history teachers from all over the country about history, their curricula and their students. Plus, I'll get a chance to see how a wide range of high school students respond to college-level essay questions."

Leichtle says, "I've had a lot of fun working with students at APUSH Review Day and have formed friendships and professional relationships with many regional APUSH teachers. Those relationships help my teaching and stimulates my thinking about history."

On April 29, the following day of the event, Leichtle and Zeidel traveled to UW-Superior, where they conducted another review day with about 50 students. Leichtle says the low turnout was because schools up north are smaller and do not offer APUSH courses every year.

River Falls and Hudson High Schools have been present all APUSH review days for the past nine years. Other area schools have missed a few because they do not offer APUSH courses on a regular basis.

High schools that participated in the event included:

Wisconsin:
Amery
Chippewa Falls
Ellsworth
Glenwood City
Hudson
Menomonie
New Richmond
Prescott
River Falls
Spring Valley
Minnesota:
Apple Valley
Braham
Champlin Park
Mounds View
Johnson High School
Rosemount
St. Louis Park
Stillwater
Tartan—St. Paul
-30-
Cutline: Some 450 students from 19 surrounding Minnesota and Wisconsin high schools gathered at UW-River Falls on April 28 for the 9th annual Advanced Placement U.S. History Review Day, which helps prepare students interested in U.S. history for college-level courses.
-30-
Last updated: Tuesday, 22-Jun-2010 16:21:24 Central Daylight Time