UW-RF Home > University Communications Home > This Month's News Releases
University Communications

Profs Present at National Geology Conference
By Molly Exner
UW-RF News Bureau

MAY 20, 2005--Faculty members from the UW-River Falls Department of Plant and Earth Science presented research and methods at the 39th annual meeting of the North-Central Section of the Geological Society of America at the Radisson Hotel Metrodome in Minneapolis, Minn., on May 19-20.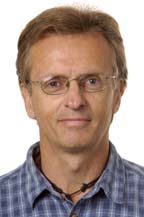 Hydrogeology and Environmental Science Assistant Professor Kerry Keen presented a session on two new earth science-related field courses for teachers at UW-RF.

Recently, UW-RF has been revamping its Masters in Science Education program. Field Geology for Teachers and Field Hydrology and Geomorphology for Teachers are two new courses that expose participants to a variety of field experiences and techniques. Graduate students developed observational skills, used field instruments, and interpreted data, which aims to provide new opportunities for geology-related teachers to enhance their curricula.

These three-week courses are taught by two members of the geology faculty and assisted by a master teacher. As an integral part of the course, students took several geological field trips to Michigan, Minnesota, South Dakota and Wisconsin to see rocks from the Archean to Cretaceous ages, including a wide range of rock types, structures and features. Participants assembled their own field project notebooks and shared lesson plans with other students to ultimately integrate those ideas into their classrooms.


Geology and Mineralogy Professor William Cordua presented a session on a CD created to blend environmental and tourism education in a geological driving tour of Pierce County, Wis.

Tourism is increasingly providing nontraditional opportunities for significant public education, says Cordua, so he developed the CD at the request of the Pierce County Partners in Tourism. Cordua has led and co-led numerous geological field trips in the county and selected stops along the route to form the CD's loop driving tour. UW-RF geography department chair and Professor Charles Radar produced a geological map of the county for inclusion on the CD.

"The landscape of Pierce County is quite scenic, particularly along the Mississippi River and its coulee-style tributaries. Themes in the tour include bedrock formations, geological history and time, landforms, land use, and water and other resources," wrote Cordua in the abstract for the presentation. "The existence of a commercial cave, diamonds and gold in glacial drift, and a probable Ordovician asteroid impact structure enhances the appeal of the CD to the public."

Approximately 800 geoscientists attended the meeting, which was hosted by the Department of Geology and Geophysics at the University of Minnesota-Minneapolis.
-30-
Last updated: Tuesday, 22-Jun-2010 16:21:24 Central Daylight Time