UW-RF Home > University Communications Home > This Month's News Releases
University Communications

UW-RF Student Wins National Scholarship
By Molly Exner
UW-RF News Bureau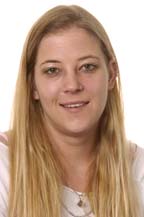 MAY 20, 2005--UW-RF physics student Heather Lunn received the national Society of Physics (SPS) 2005-06 Future Teacher Scholarship for her outstanding academic performance and high level of SPS activity in teaching and leadership.

Lunn's academic advisor and UW-RF physics Professor Earl Blodgett surprised Lunn in her advanced physics class and announced that she was the recipient of the SPS $2,500 scholarship.

Lunn, originally from Hudson and currently living in Somerset, says she almost fell out of her chair when she heard the news. "If it wasn't for Blodgett holding me up, I would've hit the floor."

Blodgett, also the UW-RF SPS chapter adviser and SPS zone 9 counselor, believes Lunn's experience as an SPS intern in education issues was a key factor in helping her land the scholarship.

During summer 2004, Lunn spent two months just outside of Washington, D.C., at the University of Maryland working with 30 13-year-old girls building eight-foot high roller coasters. Lunn, as the main coordinator for the project, which was funded by the National Science Foundation, taught the general history behind roller coasters and basics concepts in energy, friction, inertia and physics.

While Lunn says not all of her students were captivated by her physics lessons, she said the girls really loved building the loop-de-loops in the roller coasters along with mini-cars meant to ride the rails.

Lunn also worked at the American Center for Physics in College Park, Md., helping create SPS Outreach Catalyst Kits. The kits were sent out to SPS-member high schools so students can conduct physics-related experiments, which aims to show kids that science can be fun, in hopes of recruiting students into physics programs. The kits included light sources, cylinders and fiber optics. Lunn's concentration was in fiber optics, which she claims is the new wave in high-speed communication. "Fiber optics are every where and changing the way information travels."

As a follow-up, she traveled to a national meeting of the American Association of Physics Teachers in Albuquerque, N.M., in January 2005, where she led demos for groups of elementary students from local schools.

According to Blodgett, "Lunn is like a moving target." As double major in physics and math, a member of the physics honors society and working 30-35 hours a week, Lunn has still managed to stay active in SPS. Starting off as SPS treasurer and then moving up to vice president, Lunn has been an energetic member of SPS and will take the reigns as chapter president next academic year.

Lunn says she came to UW-RF not having much interest in physics at all, but after taking a general physics course taught by Professor Blodgett, she's never turned back.

"Blodgett took me under his wing and said 'hang on for the ride because it's going to be a rough one' and now I've just been tugging along."

Lunn nominated Blodgett two years in a row for the SPS Outstanding Chapter Adviser Award, which he won in 2003-04. Blodgett, along with assistant physics Professor Lowell McCann, nominated Lunn through letters of recommendation for the scholarship so she could be formally recognized for her devotion to her studies and SPS.

Blodgett said that even if the competition is tough, it pays to take time to apply students for scholarships to at least give them a chance.

Lunn, who'll graduate in May 2006, says she plans on attending graduate school in the Midwest and then pursue her doctorate in physics.

With all of Lunn's recent experience and success in teaching, Blodgett says he's encouraging her to consider becoming a physics educator at the college level.

Lunn says she hasn't ruled it out. "Maybe I'll be a physicist. Maybe I'll be a physics teacher. I'm just not sure, and no doors have shut yet."

-30-

Cutline: UW-RF physics student Heather Lunn, originally from Hudson and currently living in Somerset, won the national Society of Physics 2005-06 Future Teacher Scholarship Award worth $2,500 for her dedication and leadership in SPS activities.

-30-
Last updated: Tuesday, 22-Jun-2010 16:21:24 Central Daylight Time