UW-RF Home > University Communications Home > This Month's News Releases
University Communications

CAS Presents Awards to Faculty, Staff
By Molly Exner
UW-RF News Bureau
Photo Cutline: UW-RF winners of the Outstanding Achievement in Scholarship and Service Award (from left): Sociology Professor Brian Copp, Professor Randy Johnston, CAS Dean Gorden Hedahl, Psychology Professor Travis Tubré, Physics Professor Earl Blodgett, and Art Professor Michael Padgett. Not pictured: Mathematics Professor James Senft.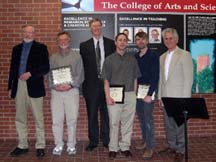 MAY 13, 2005--As another academic year comes to an end, the UW-River Falls College of Arts and Sciences (CAS) takes time to honor faculty and students for outstanding achievement in service and scholarship.

On April 13, UW-RF CAS Dean Gorden Hedahl presented certificates to several faculty members in celebration of their contributions made to the University through numerous academic and service activities.

"Faculty in arts and sciences has contributed significantly for a long time," says Hedahl. "These awards provide special recognition for several individuals."

Hedahl adds that a large number of UW-RF faculty contribute to the overall impact UW-RF has on the community and region and in the disciplines and professions with which the University is affiliated.

The faculty awards are selected by a committee of department chairs from the various divisions in the CAS, along with a representative from the dean's office based on nominations submitted. Photos of faculty recognized will appear on the College Awards Wall in the lobby of the Kleinpell Fine Arts Bldg.

The following faculty members were honored with Awards for Outstanding Achievement in Scholarship:
Art Professor Randy Johnston works to bridge a gap between sculpture and functional ceramics. His artwork has been displayed in 86 national and 23 international shows. Johnson is an internationally known artist for his contributions to the development of wood kiln technology and ceramic slips and glazes.

Mathematics Professor James Senft generously shares his insights and expertise of the mathematical analysis of heat engines with people from around the world. He works to increase student's interest in mathematics and research by including students in his research projects, giving talks on campus to student groups, and applying examples from his research into class discussion.

Psychology Professor Travis Tubré's active research programs have attracted a large number of students to industrial and organizational psychology by using his enthusiasm to energize students toward research. Tubré is currently conducting two broad research programs focusing on improving job performance measures and strategies for team-based training for complex skills like flying fighter jets or navigating space stations.

The following faculty members were honored with Awards for Outstanding Achievement in Service:
Art Professor Michael Padgett is recognized for his leadership as chair of the art department and his service and leadership for the Wisconsin in Scotland and the Pigeon Lake programs. Padgett is credited for increasing enrollment and changing the Pigeon Lake program into a valuable asset for the University and turning the Wisconsin in Scotland program into a success by taking a run-down facility and filling it with furniture, staff and students to improve the program.

Sociology Professor Brian Copp has spent 12 years on the River Falls School Board, has been a staple in the design and construction of the new River Falls High School and is no stranger in dealing with difficult issues associated with deep budget cuts. He's been making annual presentations to the UW-RF Senior Outreach group on campus and is a singer of note in several community choruses.

Physics Professor Earl Blodgett, a faculty member since 1986, is recognized for contributions made at the regional and national level as the Society of Physics Students (SPS) zone councilor. His work as the advisor for the UW-RF chapter has resulted in six consecutive Outstanding Chapter citations. In 2004, the SPS, in a nation-wide competition, selected Earl as the Outstanding Chapter Advisor.

Student Ceremony
In a separate ceremony on April 26, the CAS recognized its students receiving academic merit, scholarships, and other awards to acknowledge their effort and motivation throughout their college careers. In addition, the event recognized faculty members nominated by current UW-RF students as Outstanding Advisors.

Hedahl announced the faculty recipients for the College Awards for Outstanding Advising. The awardees were selected by members of the Dean's Student Advisory committee from nominations submitted by current students. This year more than 40 students took time to nominate advisors.

The following faculty received 2005 CAS Outstanding Advising Awards:
Professor and Chair of the English Department Marshall Toman provides students with academic guidance, a friendly face and a world's view of literature. According to a student, "He is a friendly face on campus, a plethora of knowledge, and goes above and beyond the call of duty."

Assistant Professor of sociology Tricia Davis has been teaching at UW-RF since 2000 and works with several departmental programs, including being the film studies minor coordinator. A student boasts, "Davis is motivated to help all her students in pursuing the degree they desire. Davis is not only an outstanding advisor—she is a great mentor."

Assistant Professor of biology Tim Lyden has been teaching anatomy and physiology at UW-RF since 2001 and has played a huge role in the Society for Scholarly Undergraduate Research and Scholarly and Creative Actives, which helps students and staff present their research for recognition. One student believes, " He's always in a good mood, and cheerfully talks to students about his latest projects, and encourages them to go above and beyond regular lab classes."

Kathryn Bice, a graduating senior from Trempealeau, was presented with the Ethel McDonald Ellis Award for the highest college grade point average in arts and sciences. She has maintained a 4.0 grade point average in all her classes.

Director of Faculty and Student Academic Support Programs and Director of the Honors Program Nan Jordahl presented 14 students with honors program certificates and graduation cords.

A total of 74 graduating seniors were awarded honors, 184 merit certificates, 126 scholarships and 35 departmental awards.

The following is a list of student departmental award winners:

Chemistry:
Outstanding Senior Award: Kelsey N. Mayer, from White Bear Lake, Minn.
Society Analytical Chemistry Award: Christina D. Clark, from Bloomer.
Sophomore Pre-Pharmacy Award: Yana A. Marinov, from Minnetonka, Minn., and Phoua Xiong, from Maplewood, Minn.
POLYED Organic Chemistry Award: Victoria D. Held, from Whitewater.
CRC Press Freshman Chemistry Achievement Award: Nicole J. Wellnitz, from Hammond.

English:
John S. Kikla Memorial Book Award: Leah A. Bruggeman, from River Falls, Megan M. Dusek, from Roberts, and Jennifer R. Remmele, from Dodge Center, Minn.

Geography and Mapping Sciences:
Geography Department Award of Excellence for Outstanding Academic Achievement: Amanada R. Gray, from Princeton, Minn. Outstanding Graduating Senior: Brittany A. Chudik, from Beloit.
Outstanding Cartographer Award: Alexander M. Dubish, from Waukesha, and Zachary R. Nelson, from River Falls.
Student Leadership Award: Brittany A. Chudik, from Beloit.
Gamma Theta Upsilon (Geography Honor Society): Barbara J. Bibeau, from Wyoming, Minn., Alexander M. Dubish, from Waukesha, from Joyce M. Knowlton, from Hudson, and Mark T. Smith, from Farmington, Minn.

Journalism:
M. Wayne Wolf Outstanding Graduating Senior and Norman-Robinson Longevity Award: Christine Honadel, from Augusta.
Al Murray Award for Outstanding Performance: Bryan Harmelink, from River Falls.

Physics:
Sigma Pi Sigma (Physics Honor Society): Tyler J. Cramer, from Sauk City, Kevin J. Dawson, from Kaukauna, Scott J. DeWolf, from River Falls, Casey E. Murray, from Hugo, Minn., John D. O'Brien-Schroeder from Hudson, Joshua E. Potts, from Osceola, Lisa C. Watkins, from Marshall, Minn., Boyd C. Weiger, from Maplewood, Minn., and Robert T. Wicklund, from North St. Paul, Minn.

Sociology, Anthropology and Criminal Justice:
Outstanding Sociology Student of the Year: Nicole R. Berthiaume, from Rockford, Minn. Alpha Kappa Delta (Sociology Honor Society): Benjamin L. Arthur, from White Bear Lake, Minn., Molly N. Buck, from Stillwater, Minn., Jonathan P. Finnegan, from Coon Rapids, Minn., Katie L. LaClair, from St. Paul, Minn., and Heather R. McCulley, from River Falls.

Speech Communication and Theatre Arts:
Outstanding Theatre Senior: Bradley O. Jennings, from Chetek.


-30-
Last updated: Tuesday, 22-Jun-2010 16:21:24 Central Daylight Time