UW-RF Home > University Communications Home > This Month's News Releases
University Communications

Retired Dean's Book Reveals College Success Strategies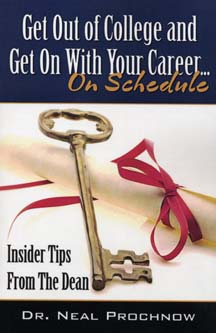 MAY 6, 2005--With high school graduation parties on the horizon all summer and the prospect of entering postsecondary education in the fall, freshly minted high-school graduates and their parents might appreciate a new book designed to help students complete college on time and with an efficient strategy.
The book is "Get Out of College and Get On With Your Career…On Schedule—Insider Tips From the Dean" by Neal Prochnow, former dean of the College of Arts and Sciences at University of Wisconsin-River Falls.

Only 30 percent of the students who start college graduate in four years, and a surprising 17 percent take more than 10 years to matriculate.

Prochnow, a retired professor of physics at UW-RF, has been advising college students for more than three decades. As a dean and professor, he has met with thousands of students and parents as part of prospective student programs as well as advising for registration. With this experience, he saw the need for a realistic approach to college.

Prochnow offers a practical, how-to manual on completing a degree and choosing a career. His book, published by Infinity Publishing, is a step-by-step guide through registering for classes, choosing a major, changing majors, connecting majors to careers, and acquiring the right skills for the 21st century.

While at the UW-RF, Prochnow provided the leadership to create the School of Business and Economics within the College of Arts and Sciences, which later grew into its own college. He as been recognized twice as an outstanding science professor, and with his guidance, his three children completed their degrees on schedule. He lives in River Falls with his wife, Karen.

The book is available at the signing event or from www.getoutofcollege.com or www.buybooksontheweb.com or toll-free 1-877-BUY-BOOK. To schedule readings or author signings, contact Prochnow at nhprochnow@sbcglobal.net.

-30-
Last updated: Tuesday, 22-Jun-2010 16:21:23 Central Daylight Time