UW-RF Home > University Communications Home > This Month's News Releases
University Communications

Prof/Associate Dean Named Outstanding Advisor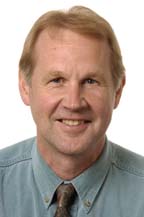 MAY 3, 2005--UW-River Falls alumnus and professor of agricultural economics Nate Splett has been named the 2005 Advisor of the Year at the University.

Splett, who also is an associate dean of the College of Agriculture, Food and Environmental Sciences, is the sixth recipient of the award at the University's all-campus awards reception April 19.

The award was established in 2000 to recognize an outstanding faculty advisor with nominations by graduating seniors and alumni. Those nominations are then considered by the Faculty Senate Advising Committee, which makes the final selection.

Students who nominated Splett noted his genuine concern for their well being. One said, "No matter what your situation, Nate always has a kind word and some advice for you." Another said, "Nate is very knowledgeable in what students have to do to complete their requirements. He is also very easy to talk to." A third commented, "Nate is the advisor who will do anything in his power to help his students and advisees succeed.

Splett's experience combines teaching and research with experience in agri-business and the public schools. He was a vocational agriculture instructor in the Barron and Turtle Lake (Wis.) high schools, a loan officer for Production Credit Association, a supervisor for the Farm Credit Adminstration, has served as a consultant to agriculture-oriented financial institutions, and taught economics at UW-Stout.

In addition to his administrative duties at UW-RF, he teaches introductory ag economics, advanced microeconomic theory, agricultural accounting, agricultural law, farm management and horticultural management. He is a former chair of the UW-RF department of agricultural economics.

"Nate Splett's selection as the UW-RF outstanding advisor is well deserved," said CAFES Dean Stephen Ridley. "Nate takes student advising very seriously. He is very knowledgeable regarding the technicalities of the curriculum, and he knows and understands his students well. He is one of the most effective advisors I have known."

Splett is a recent recipient of an U.S. Department of Agriculture grant to infuse legal content into the CAFES curriculum. He has also received other USDA grants for curriculum enhancement and a grant from the Wisconsin Humanities Council for a documentary film on farms. His scholarly and research articles have been published in journals including Agribusiness, Agriculture Financial Review, Journal of Dairy Science, and others. He has been an active member on various University committees.

Splett holds a B.S. in ag education and an M.S. in ag economics from UW-RF as well as a Ph.D. in ag economics from the University of Illinois at Urbana-Champaign. While completing his dissertation at UI, he was a research assistant and fellow. He also has been a visiting lecturer at the Academy of National Economy in Moscow, Russia.

On receiving the award, Splett said, "It was a pleasant surprise. I think at the core of advising is genuine caring about our students, and I see this every day among our faculty and staff across campus. It is a privilege for me to represent our faculty and staff in their excellent advising efforts by receiving this award. "

He is a member of the Bloomer Historical Society, Christ Lutheran Church, Scandinavian Cemetery Association, and Barron County Woodland Owners Association as well as a former president of the CAFES Alumni Association. He also farms in Barron and Chippewa counties.

A native of Barron County, Splett lives in Bloomer where his wife, Becky, is an elementary school teacher in the Bloomer Schools.

Splett says his students make his job very enjoyable. "Our students tend to be highly motivated, have a strong work ethic, are enthusiastic about learning, and they continually go into the job market being highly competent. It is enjoyable to be around them."

-30-
Last updated: Tuesday, 22-Jun-2010 16:21:23 Central Daylight Time