UW-RF Home > University Communications Home > This Month's News Releases
University Communications

Students Receive Chancellor's Awards
By Molly Exner
UW-RF News Bureau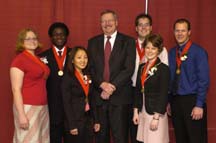 MAY 3, 2005--Six students have been chosen to receive the 2005 Chancellor's Awardat UW-River Falls.
Pictured are (L to R): UW-River Falls 2005 Chancellor's Award recipients are: Kendra Plant, from Blaine, Minn., Leon Gbee, from Sudan, Africa; Mary Vang, from St. Paul, Minn., Interim Chancellor Virgil Nylander, Nicholas Sirek, from Rice Lake, Lindsay Starr, from Manawa, and Jeremy Kalal, from Jordan, Minn.

The Chancellor's Award is the highest nonacademic honor a student can receive at the University. It is given to students for their leadership and service to the University while on campus. The recipients were recognized at the all-campus awards reception April 19.

Typically, recipients are juniors and seniors nominated by a faculty or academic staff member or student peers through the UW-RF Student Senate. A committee that reports directly to the chancellor considers each nominee. After select interviews, the committee deliberates their recommendations with the chancellor, who then makes the final decision.

UW-RF Interim Chancellor Virgil Nylander says, "One of the year's true highlights for me is announcing the students selected to receive the Chancellor's Award, which recognizes exceptional service to UW-River Falls."

Leon Gbee is a senior majoring in sociology and was nominated by Career Services Career Counselor Sheri Stover. Gbee is a peer advisor and works as a marketing intern in Career Services. His primary duties are to organize the Walk Thru and Disorientation events. Gbee is one of two founders of the Mentors and Mentees Program, which pairs up incoming students of color with upper-class student role models.

Gbee also has worked on several University committees, including the International Programs Committee, the Recruitment, Admission and Retention Committee and the Diversity Committee. He also was a member of a Search and Screen Committee in the Academic Success Center.

In addition, Gbee researched genocide issues as a McNair scholar at UW-RF and as a fellow at the University of Minnesota. He is active in Amnesty International, African American Alliance, Community Action Theater Troop (CATTs), and the Asian American Student Association. Gbee also has served as president of the African American Alliance, senator on the Student Senate, and volunteered for Community Cleanup and Habitat for Humanity.

Jeremy Kalal is a senior majoring in broad field science in secondary education and was nominated by Director of Student Life Facilities Michael Stifter. Kalal has been a resident assistant in Stratton Hall for two years and has been recognized with the 2003-04 educational and community service programs-of-the-year awards on campus.

Kalal is the founder and president of the Smiles 4 Kids organization, the largest student-run organization with more than 280 members, which he refers to as his biggest accomplishment on campus. Kalal also was responsible for reconstructing and coordinating Dance Marathon, an all-day event on the UW-RF campus this year, which raised more than $11,000 for Gillette Children's Hospital in St. Paul.

Kalal also accompanies a group of students to the Gillette every other week throughout the school year. Kalal says his efforts are worth it every time he walks through those hospital doors and sees the smiles on the children's faces.

Kendra Plant is majoring in business administration with a minor in music and was nominated by student Senator Katy Leisch. Plant served as the fundraising chair for Students Fighting Hunger and Homelessness organization, which organizes an annual sleep-out to raise awareness and funds for charitable organizations.

Kendra has served as a student senator and as the Student Senate's women's initiatives director, where she worked to initiate programs such as Campus Safety Awareness Week and the Vagina Monologues College Campaign, which aim to prevent violence against women.

In her junior year, Plant was co-founder of a new student organization, Advocates for Choice, which works to protect the private rights of men and women to make decisions about family planning and reproductive health. Plant also actively participated in the College Democrats, Gender Equality Council, Day of Silence for LGBT students and the Student Health Advisory Council.

Nicholas Sirek is majoring in elementary education and was nominated by Director of Student Life Facilities Michael Stifter. Currently, Sirek is chair of the Facilities and Fees Board and was a front desk assistant in the Leadership Center. He also was a resident assistant and campus tour guide for two years. In addition, Nick co-developed and facilitated the campus-based Big Brothers-Big Sisters program.

Sirek has served on several University committees including the Student Senate, Student Advancement Association, and East and West Area Councils. Sirek was a member of the Student Center Core Committee, where he represented the students in the development of the program statement for the new student union being built on campus. He was chosen as a student speaker for commencement, to be held May 14.

In addition, Nick participated in University Theatre as an usher and house manager. He has been an active student in the College of Education and Professional Studies and currently is student teaching in New Richmond.

Lindsay Starr is majoring in marketing communications with an animal science minor and was nominated by agriculture economics Professor Lewis May. Starr completed a marketing internship with the UW-RF Quarter-Scale Tractor Pulling Team and worked as a consumer behavior and marketing communications tutor for foreign exchange students.

Starr currently works as a peer advisor at UW-RF Career Services and also serves as senior editor of the FencePost, an alumni publication of the College of Agriculture, Food and Environmental Sciences (CAFES). Lindsay has served as secretary, FencePost liaison, member of the CAFES Public Relations and Information Committee and a member of the Agriculture Communicators of Tomorrow.

Currently Starr is president of the Block and Bridle Club and also served as a new student orientation leader, CAFES ambassador and floor representative for Prucha Hall Council.

Mary Vang is majoring in elementary education and was nominated by Career Services Career Counselor Sheri Stover. Currently, Vang is a second-year resident assistant in Prucha Hall, a peer advisor at Career Services, a McNair scholar, and also co-initiated the Mentor and Mentees program within Career Services.

Mary has served as the co-president of the Asian American Student Association, has been active in the organization CATTs, assisted the multicultural student visit and outreach programs in the Admissions Office, and worked with pre-college camps.

In addition, Mary has been a volunteer with Campus Community Cleanup, Gillette's Children Hospital, and as a tour guide with Admissions. She also participated in the Relay for Life Cancer Walk and was a summer registration facilitator assisting incoming students.

Nylander says, "These individuals are representative of so many students who make UW-RF better through their work and service."
-30-
Last updated: Tuesday, 22-Jun-2010 16:21:23 Central Daylight Time