UW-RF Home > University Communications Home > This Month's News Releases
University Communications

Cancer Researcher Named Distinguished Alum
By Molly Exner
UW-RF News Bureau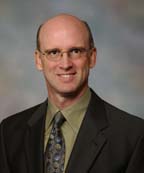 MAY 3, 2005--An internationally respected leader in cancer research whose developments have helped influence new discoveries in the fight against cancer is the recipient of the 2005 University of Wisconsin-River Falls Distinguished Alumnus award.

Steve Swensen, a 1978 UW-RF graduate, is a professor and head of radiology at the Mayo Medical Clinic in Rochester, Minn., where he has been at the forefront of cancer research. His research mainly focuses on lung cancer screening with Computed Tomography (CT), also known as CAT scanning, and radiologic analysis of lung nodules and masses.

Swensen comes from a long legacy of UW-RF alumni and emeriti. He is the son of Richard Swensen, dean emeritus of the College of Arts and Sciences (CAS), and brother of David Swensen, a 1975 UW-RF graduate and winner of the 1996 Distinguished Alumnus award. Plus, Swensen's mother, Grace, who was the assistant pastor at Gethsemane Lutheran Church in Baldwin, is an alumna, as are all five of his siblings. As if that isn't enough, Swensen's wife of 28 years, Lynn, is a UW-RF alumna as well. They met in freshman calculus.

A special connection is his late uncle, Glen W. Hartman ('56), who received the distinguished alumnus award in 1983 and also was the head of radiology at the Mayo Clinic.

"I'm particularly pleased with the selection of Stephen Swensen," says UW-RF Interim Chancellor Virgil Nylander. "I have known his parents for many years and they have played a major role in the growth of this university."

Swensen said he was "tickled" when he heard about his selection for the award. "There's nothing more important than teaching," he says. "I'm real pleased and proud."

For the past five years, Swensen has served as the chair of Mayo's Department of Radiology, leading approximately 1,200 people, including 126 physicians and nine physicists. The department performs approximately 900,000 diagnostic and therapeutic exams per year and supplies more than $300 million worth of medical care in the department. The department has 20 magnetic resonance imaging (MRI) machines, 17 CT and 43 ultrasound scanners. Swensen has been at the Mayo Clinic since 1987.

The Mayo Clinic conducted its one-millionth radiology procedure in 2004. It was the first time this level of activity had been reached in a year. Swensen says radiology procedures are growing at a rate of 7 percent per year due to the equipment's increasing breadth of services, including finding more ways to identify disease and obstruction.

In addition to administrative duties, Swensen is the principle investigator of two National Institutes of Health grants, both from the National Cancer Institute. These grants support nearly 40 percent of Swensen's time and are valued at more than $4 million devoted to lung cancer research.

Lung cancer is a global killer and is the biggest cancer killer in the United States for both men and women. Swensen's research focuses on low-dose spiral CT screening to detect lung cancer at an earlier stage when it is more likely to be cured. He also is investigating the utility of biomarkers, including both genomic and proteonomic signatures of cancer.

Swensen serves as a member of the Board of Directors of a technology-based venture start-up company called TeraMEDICA, founded by a small team of Mayo Clinic leaders. The company plans to build the largest medical digital imaging archive available on the planet. Ultimately, the Mayo Clinic will become a digital and filmless enterprise with patient images available wherever and whenever.

Swensen is undoubtedly a leader in organizing people interested in the advancements of radiology. He has been the president of the Society of Thoracic Radiology, president of the Fleischner Society, president of the Mayo Thoracic Society, and currently is president of the American Association of Clinic Radiologists.

Swensen says, "I view my volunteer work in professional societies as a civic responsibility and contribution to my community."

Swensen has authored and co-authored more than 100 articles in medical journals, written two books, and published numerous book chapters, abstracts, letters, editorials and scientific exhibits.

Swensen says he can enjoy his award in good company. Swensen's father, Richard, arrived at UW-RF in 1955 to teach in the chemistry department, served as CAS dean from 1969 to 1988, and then began teaching again until his retirement in 1993.

Plus, his brother, David, was recognized as the1996 Distinguished Alumnus for his responsibility for Yale University's $3 billion endowment fund.

River Falls is Swenson's "childhood home." The Swensen family lived in River Falls for more 50 years. All six of the Swensen children lived at home for their undergraduate education at UW-RF. Swensen says that his family's "home-cooking" was worth sticking around.

According to Swensen, there's really no better compliment to the institution and staff at UW-RF, when his two parents, who knew the UW System and wanted the best for their children, recommended the University right in their backyard.

Nylander says, "Stephen was a student of mine in a physiological psychology class. He was an exceptional student with an ever-inquiring mind. I always knew that he would be successful."

Swensen says sticking to his long-term goals and knowing he has the opportunity to make a difference in diagnosing and curing lung diseases and cancer by advancements made in CT scanning is what keeps him driven and focused. Plus, Swensen says he and his wife's two children, Scott, 8, and Callie, 6, keep him working toward a brighter, healthier future.

Swensen will be addressing students, faculty and staff at commencement May 14 and will be offering a series of lectures on campus in fall 2005. He plans to reflect on his fond memories in River Falls and remind students to "seize the day."

Swensen says he has great respect for UW-RF and believes college is a major cornerstone foundation for a productive life and high self-esteem.

-30-
Last updated: Tuesday, 22-Jun-2010 16:21:23 Central Daylight Time