UW-RF Home > University Communications Home > This Month's News Releases
University Communications

Brown Named Interim Dean of CAS
By Kari Johnson
UW-RF News Bureau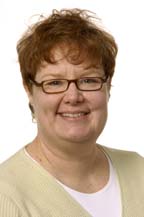 APRIL 29. 2005--Terry Brown, associate dean for the College of Arts and Sciences and professor of English at the University of Wisconsin-River Falls, has been named interim dean of CAS by Provost Virginia Coombs. Brown takes on this position effective July 15, 2005.

Brown replaces Dean Gordon Hedahl, who will teach theatre at UW-RF next fall.

On being selected, Brown said she is "honored and excited," and is focusing on continuing the work Dean Hedahl began into the next academic year.

Coombs said of Brown, "Dr. Brown has gained much valuable experience as one of the college's associate deans for the past several years. I look forward to working with her in this new role."

Brown joined UW-RF as an assistant professor of English in 1989.

As associate dean of the CAS, Brown oversaw and promoted outreach activities for the college, administered to student record-keeping affairs, and represented Dean Hedahl when necessary.

Brown has taken on a number of responsibilities since joining UW-RF. This past year, Brown chaired the search-and-screen committee for the new chancellor. She is also chair of the American Democracy Project, a nationwide program designed to promote civic engagement on college campuses. In addition, Brown was also the coordinator for the women's studies program on campus for three years.

Brown represents the campus on the UW Institute for Global Studies Advisory Board, which promotes international programs. She is a member of the General Education Committee and University Health and Wellness Committee at UW-RF.

Brown holds a Ph.D. in English (1989) from the University of Florida, Gainesville, and an M.A. in English (1984) and a B.A. in English (1982), both from Virginia Tech. This summer Brown will participate in the Management Development Program at Harvard University and will also participate in the Oxford Roundtable on Women's Leadership at Oxford University.

Brown's previous positions include assistant dean, outreach program manager, and administrative intern for CAS. Brown has also served as a professor, associate professor and assistant professor of English at UW-RF. Prior to joining the university, Brown was a graduate teaching assistant at the University of Florida and at Virginia Tech.

Brown has spoken at many national and international conferences on topics such as women in literature and film, women's leadership, gender equity in the UW System, internationalizing higher education, international issues, technology in the classroom and women in the media.

Brown is co-editing "Women Writers in Context: An Anthology of Literature," contracted with Houghton Mifflin and currently in progress. Her scholarly articles have appeared in Feminist Collections, Teaching Forum and Literature Interpretation Theory.

She is a member of the Association of American Colleges and Universities, the Council of Colleges of Arts and Sciences, the American Conference of Academic Deans, the Modern Language Association, and the National Council of Teachers of English.
-30-
Last updated: Tuesday, 22-Jun-2010 16:21:23 Central Daylight Time