UW-RF Home > University Communications Home > This Month's News Releases
University Communications

Book Club Features Local Author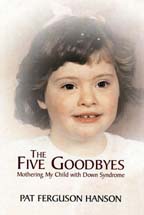 APRIL 29, 2005--The book, "The Five Goodbyes," by UW-River Falls instructor Pat Ferguson Hanson, will be discussed as part of the Lion's Paw Book Club on May 11, from 3 to 4 p.m. in the Chalmer Davee Library Breezeway at UW-RF.

Hanson, instructor of speech communication and theatre arts department, will lead a discussion that tells her story of many goodbyes and challenges her family faced while trying to obtain social services for their daughter, Molly, who was born with special needs. It is the triumphant story of how the family, including Molly, survived.

The club encourages community members, faculty, staff and students to participate in the final gathering. The public is welcome to attend and need not have read the book to sit in on the session.

Featured books are available in the University Bookstore in the Hagestad Student Center, and several copies of each book are also available in the library's collection. For more information, call 715/425-3222.

-30-
Last updated: Tuesday, 22-Jun-2010 16:21:23 Central Daylight Time