UW-RF Home > University Communications Home > This Month's News Releases
University Communications

Students Display Research at Capitol
By Christine Duellman
UW-RF News Bureau [photos]

APRIL 15, 2005--Eight students from the University of Wisconsin-River Falls presented their research findings at "Posters in the Rotunda: A Celebration of Undergraduate Research" April 7, at the Wisconsin State Capitol in Madison.

They joined more than 100 students from 15 UW System campuses and presented their work to the Board of Regents, the UW System policy board, UW System President Kevin Reilly, legislators and University officials and faculty members.

"I believe that the undergraduate research experience represents what is best about our great public university – providing top-quality education, while harnessing the knowledge and talent of the UW System to provide benefits for all," said Reilly. "Our long-standing commitment to fostering and celebrating these research opportunities has enabled us to teach and mentor some of the world's brightest young minds right here in Wisconsin.

"By conducting serious research as an undergraduate, these students and their peers across the UW System engage in 'real-life' training, and are prepared to excel in their future careers," said Reilly.
UW-RF Interim Chancellor Virgil Nylander said this was a marvelous opportunity for students to showcase their work before the legislators and Board of Regents.

"The quality of research by our students was superb. During my university days, this was the kind of research you would have seen at the graduate level," said Nylander. "This is a remarkable young group of scholars and researchers."

The following UW-RF students, listed by name, hometown and project, presented research projects:
• Bwarenaba Kautu of the Gilbert Islands in the South Pacific, "Investigating Chemotaxis and Formaldehyde Induced Fluorescence in the Neurons of C.elegans"
• Kendra Scudder of Verona, Wis., "A Multi-Generation Sublethal Assay of Estrogenic Compounds Using HIM-5 Strain of the Nematode Caenorhabditis Elegans"
• Nels Thoreson of Lake Nebagamon, Wis., "Word Usage Analysis of the 2004 Presidential Debates"
• Matthew Schuelke of Glidden, Wis., "Midterm Report and Subsequent Academic performance."

Two group research projects were presented by Tracy Nelson of St. Paul, Minn., Andrew Gunderson of River Falls, Wis., Tory Schaaf of Prior Lake, Minn. and Sarah Schimmel of Pickett, Wis. and Erin Lee of Hudson, Wis., Marion Majeske of River Falls, Wis., and Nicole Salwasser of St. Paul Park, Minn. Their projects were titled "Development of a 3-dimensional cell culture system for the growth and study of epithelial 'pseudo-tissues" and "Morphometric analysis of 'tissue-engineered' 3-dimensional epithelial cell cultures."
Photo caption: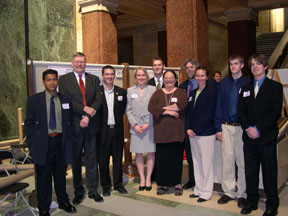 Participants from UW-River Falls in the Posters in the Rotunda research day at the capitol in Madison included, left to right: student Bwarenaba Kautu, Interim Chancellor Virgil Nylander, students Matthew Schuelke, Tracy Nelson and Andrew Gunderson, biology professors E. Katherine Miller and Tim Lyden, students Kendra Scudder, Tory Schaaf and Nels Thoreson.


-30-
Last updated: Tuesday, 22-Jun-2010 16:21:22 Central Daylight Time