UW-RF Home > University Communications Home > This Month's News Releases
University Communications

Professor's Passion Helps Create Road Trip CD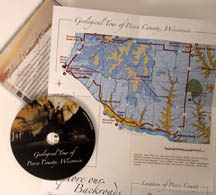 MARCH 17, 2005--UW-River Falls geology Professor Bill Cordua has spent much free time over the past several decades exploring the scenic byways, rolling hills,
rock formations and panoramic landscapes of Pierce County, Wis.

Cordua fits the classic definition of a rockhound: one who hunts or collects gemstones as a hobby. It's both vocation and avocation, however, for the geologist who has taught at UW-River Falls for more than 30 years.

He's collected a motherlode of information at his personal Web site, which receives hundreds of visits per month from other rockhounds. His site, www.uwrf.edu/~william.s.cordua, offers a Wisconsin mineral database, cross-referenced by county, as well as a bibliography of state mineralogy. The site also has extensive links including surveys, museums, events and magazines for the geology enthusiast.

He regularly writes articles for the Leaverite News, a newsletter of the St. Croix Rockhounds, and other amateur publications in addition to authoring dozens of scholarly articles for almost every journal in his field.

He's recognized far and wide for his expertise, including receiving top honors from the Midwest Federation of Mineralogical and Geological Societies as well as being inducted the National Rockhound and Lapidary Hall of Fame. He is a fellow of the Geological Society of America and a member of the Friends of Mineralogy, the Wisconsin Academy of Arts, Sciences and Letters, the Institute on Lake Superior Geology, the Meteoritical Society, and the Wisconsin Geological Society.

While Cordua has explored sites from Iceland to Ireland and Greece to the Galapagos Islands, Pierce County remains one of his favorite places to investigate. So much so that he's put his knowledge of the county's geological wonders on a road trip CD available from the Pierce County Partners in Tourism.

The county's unique geology forms the backdrop for a long history as an outdoor recreation area. Since 1942, visitors have flocked to Crystal Cave, the state's longest cave system discovered in 1881, to marvel at the stalactites that take thousands of years to grow even a miniscule measure.

Other highlighted sites on the CD include the Eau Galle Recreation Center, opened in 1968 and featuring the Midwest's highest earthen dam; the Mississippi and St. Croix confluence at Prescott; and the sandy beaches and limestone formations of the Kinnickinnic and its delta on the St. Croix.

One site has intrigued Cordua for decades: the Rock Elm Disturbance at Nugget Lake County Park. It's a hole about four miles in diameter and 200 yards deep where the usual bedrock is absent, bent downward, folded, faulted or uplifted along with tilted, exposed beds of Mount Sinai sandstone, a layer of sediment usually found flat about 700 feet under the surface. "It's the strangest geology we have in the county," says Cordua.

Along with research from other geologists, Cordua recently concluded in the geology literature that it is the site of an asteroid impact millions of years ago. "At the time we were preparing the script, we were still debating its origin. There are still some people who doubt its impact origin. So it's still good that the description on the tape still leaves its origin open."

The idea for a geological road trip percolated for about 10 years, according to Cordua, who selected the sites, test-drove the route, and wrote the script.

Because visitors to Crystal Cave were always asking about the area, Jean Cunningham, who with her husband, Blaze, owns of the Spring Valley attraction, came up with the idea for a self-guided tour and naturally contacted the well-known professor.

"Originally we were going to do a cassette tape," Cordua says. "Initially I took a map and marked the places that I felt I would like to write about. I connected the dots, and it felt like a good route."

The self-guided CD, "Geological Tour of Pierce County, Wisconsin," was produced by PCPT and Pierce-Pepin Cooperative Services. UW-RF geography Professor Charles Rader created a detailed relief map that accompanies the CD, and KWNG radio host Tom Hughes narrates the tour.

"I think it's one of a kind," says Cordua. "I don't know of another county with a recorded geology tour; most are in book format."

The auto tour starts at the Prescott Welcome and Heritage Center and traverses south to Diamond Bluff and Hager City along the Mississippi. It continues along Highway 35 to Bay City and Maiden Rock and then heads north on County Road CC to Nugget Lake County Park and on to Spring Valley. From Spring Valley it traverses east on Highway 29 to River Falls, The last leg of the tour is along on county roads M and F past Kinnickinnic State Park, returning Berg's Rock Shop in Prescott.

The CD features a variety of information including estimated driving times, places to pull off the road as well as the history and background of more than a dozen sites.

"Every county has a mix of interesting geology, but Pierce County is so naturally scenic," says Cordua. "It is far enough south where the glaciers stopped so there is some bedrock and some glacial material. The roads aren't busy and are nice for a leisurely drive."

The CD is available at the UW-RF Bookstore, Crystal Cave, and other retail outlets or from Pierce County Partners in Tourism for $14.95 plus shipping/handling, 1-800-4PIERCE, http://www.travelpiercecounty.com/geo_tour.html. Area libraries also have copies for patrons to check out.
-30-
Last updated: Tuesday, 22-Jun-2010 16:21:21 Central Daylight Time