UW-RF Home > University Communications Home > This Month's News Releases
University Communications

Biography of Dr. Donald Betz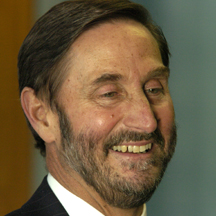 FEB. 11, 2005--Dr. Donald Betz has accepted the position of chancellor at the University of Wisconsin-River Falls. He is currently provost and vice president for academic affairs at the University of Central Oklahoma. He has held previous administrative positions including provost and vice president of academic affairs at Palmer College of Chiropractic, and several administrative positions at Northeastern State University in Tahlequah, Okla., including vice president of university relations, dean of continuing studies, assistant to the president, director of university relations, and executive director of the educational foundation.

His administrative accomplishments include the founding of the University of Central Oklahoma Center for Undergraduate Research and the establishment of an annual statewide undergraduate research day; the establishment of a faculty enhancement center; co-founding of the Oklahoma Center for Arts Education; serving on the original implementation committee of the American Association of State Colleges and Universities's American Democracy Project; and initiating the Center for Tribal Studies at Northeastern State University.

A board member and regular presenter for the Oklahoma Educators' Leadership Academy, Betz has made leadership development among faculty, staff and students an integral part of his administrative accomplishments. He has significant fundraising experience and is a co-founder of the University of Central Oklahoma Alliance for Institutional Advancement, an innovative and successful campus-wide collaboration for the advancement of the institution.

Betz also has considerable international experience, having worked at the United Nations on the Question of Palestine, one of his areas of expertise, and having served as an assistant foreign editor for the Daily Star in Beirut, Lebanon, during the 1970s.

He is the author of numerous final declarations, statements and communiqués adopted at U.N. conferences, symposia and seminars. He has given presentations on leadership, globalization, civic engagement and higher education and is an international affairs analyst for regional media.

Betz earned his M.A. and Ph.D. in international relations from the University of Denver. He has held the position of professor of political science at University of Central Oklahoma and Northeastern State University and has several awards for excellence in service and teaching. He holds a B.A. in political science and philosophy from the University of San Francisco.
-30-
Last updated: Tuesday, 22-Jun-2010 16:21:19 Central Daylight Time